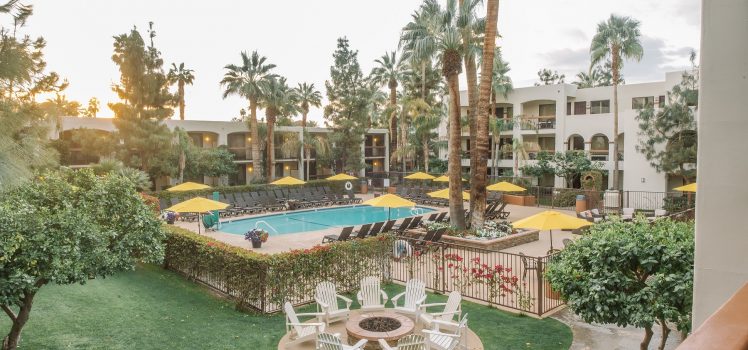 Think it's too hot to visit Palm Springs during the Summer?
Think again…
There are plenty of ways to stay cool and things to do in Palm Springs during the Summer.
Palm Springs knows how to chill out.
We sport over 300 days of sunshine a year, as a result, we know what we're doing when it comes to summer living.
For a uniquely Palm Springs experience, take flight at the Palm Springs Air Museum.
We know what you're thinking: a museum?
But this attraction is anything but boring and brings your imagination to new heights of cool.
Kids will marvel at the child-sized control tower and flight simulators.
The whole family can stretch their legs and expand their horizons in the air-conditioned hangars.
And the displays in the museum aren't roped off.
They want you to interact and experience the exhibits first hand.
High-flying heroism meets down to earth accessibility!
Another cool museum is the Palm Springs Art Museum.
Right now, the museum is running an exhibition entitled Brave New Worlds: Explorations of Space.
It invites you to enter the creative universes of five contemporary artists.
Each piece represents the artist's understanding of our bodily connection to the world that surrounds us.
The exhibit runs until December 16, 2019.
Early in the morning, before it gets too hot, is a great time to stroll along the Palm Springs Walk of Stars.
Located in downtown and just steps from our resort, 'stars' are embedded in the sidewalk.
You can see the names of famous actresses, actors, presidents and more.
Some of the stars you will find include Sophia Loren, President Gerald Ford, Mickey Rooney, Elizabeth Taylor, Bob Hope and more.
In addition, several streets around the Coachella Valley are named after famous stars, for example Frank Sinatra Drive, Dinah Shore Drive and Bob Hope Drive to name a few.
Want to know another famous fact about Pam Springs?
Elvis and Priscilla Presley honeymooned here and you can take a tour of the famous Elvis Honeymoon Hideaway.
Similarly in the mornings, the Certified Farmer's Market is a great place to relax and enjoy fresh food, flowers, etc.
The market is open every Saturday from 8:00 a.m. to 12:30 p.m. in the Palm Springs Pavilion (401 S. Pavilion Way).
Don't worry about the heat, it has air conditioning inside.
The mis­sion of the Palm Springs Cul­tural Center's Cer­ti­fied Farm­er's Mar­ket Pro­gram is to serve as a com­mu­nity gath­er­ing place where local farm­ers and ven­dors can offer fresh agri­cul­tural and related products.
Programs include:
Chef Demonstrations
Kids Programs
Music at the Market
At night, Palm Springs VillageFest takes place in downtown Palm Springs on Palm Canyon Drive every Thursday.
VillageFest is a festive pedestrian street fair that includes arts, crafts, food, and entertainment.
You can stroll through the event traffic-free and visit the endor booths on both sides of the street.
Also at night and during the Summer, when you stay at Palm Mountain Resort & Spa, you are invited to join our Summer Dive-In Movie Series.
Gather poolside and swim or float as you watch fun, family-friendly movies.
Our upcoming August screenings include:
August 4: Captain Marvel
August 11: Aquaman
Create your home base at our resort!
Check out our special offers to find the package that fits your personal wants and needs and make your reservations to stay with us this Summer today.
Bring your family, friends, and fun-lovers to the capital of cool and let's beat the heat together!